The Latest Vape Mods Worth Buying
With new vape mods being introduced to the market almost on a daily basis, it is becoming a difficult task to find the perfect device for your vaping needs. That said, it is worth noting that most new devices are just upgrades of the existing vape mods and thus, if you are simply looking for the best vape mod on the market, you would better look at the latest products on the market as they are designed to improve the functionality and address the shortcomings of the existing mods. Some of the recently released vape mods that you should try in 2018 include:
iJoy Capo 100W Starter Kit
: The iJoy Capo starter kit is designed to address the shortcomings of starter kits to enable new vapers to enjoy their vaping by bringing in an ergonomic freedom and new battery capabilities. With an exceptional 21700 vape battery, the Capo starter kit is capable of meeting high wattage demands with great efficiency thanks to its temperature control suite and ability to fire up to 100 watts. The unit also brings effectiveness and efficiency through custom settings that allow users to vape according to their desires at a click of a button.
Wismec Sinuous Ravage 230 starter kit: Despite being still new, the Wismec Sinuous Ravage 230 has already captured the hearts of many vapers with its exceptional performance. The Sinuous Ravage is an improvement of the successful Predator platform bringing the ergonomic and compact form factor with the feel and look of a futuristic device. The vape mod is a premium device capable of firing up to 200 Watts. It also comes with a 1.4-inch OLED full-color display, improved WM01 coil series and an amazing temperature control suite.
Smok Majesty 225W Starter Kit: The Smok Majesty 225W starter kit comes in two finishes of either carbon fiber and resin finish. The main area of the upgrade includes the UI upgrade that offers vapers with a better smooth flow of the functions. The mod also sees power upgrade by firing up to 225 watts. The mod also offers vapers flexibility by enabling them to choose the ideal firing mode. Depending on the experience, the vaper can choose soft, normal or strong fire mode. Other design upgrades included in this new Smok Majesty 225W kit include innovative and ergonomic firing mechanism, squeeze to fire operation, menu color customization, comprehensive menu settings and adjustment and dual battery life indicator.
Conclusion
When it comes to buying the best vape mod, you will always find yourself torn between two or more units. If the units offer your minimum vaping requirements and are within your budget range, you should go for the unit with most features. A more powerful and sophisticated box mod is always better as it means that you upgrade your vaping experience without investing in a new unit as all you will need is to change settings.
Powered by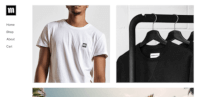 Create your own unique website with customizable templates.